The June and Farrar project has three phases.
Phase 1 is complete! The 7th edition of Living High, June Burn'sunconventional autobiography, is available HERE!
The first book launch occurred on May 25th at 7 p.m. at Fairhaven College in Bellingham, WA, where the 7th edition was enthusiastically received!
Watch this space and join our June & Farrar facebook community page for updates on additional book launches in Whatcom and Island Counties!
Phase 2: Re-record Farrar's songs with a contemporary vocalist and guitar accompaniment, produce an audio edition of Living High, and promote the book. Auditions for the musician will be held in Bellingham in the fall of 2023. Watch this space for updates. Skye Burn, June & Farrar's granddaughter, will read the audio recording of Living High.
BREAKING NEWS!
We've launched our Kickstarter campaign to fund Phase 2 of the June & Farrar Project!
Please visit the site and support us with your funds and words of encouragement! CLICK HERE!
Phase 3: After Phase 1 and 2 are launched, our intention is to work with co-creators—songwriters, screenwriters, consultants—to create a script for a screenplay or miniseries that tells June & Farrar's story and utilizes his songs in the storytelling. New songs will be composed to include June's voice in the musical themes.

We successfully completed
our first GoFundMe campaign!
It funded the Artistic Director's position
and kept the work moving forward
to complete Phase 1!
We have now launched our second fundraiser
to fund the Artistic Director's position
for Phase 2!
 
Please visit our Kickstarter campaign: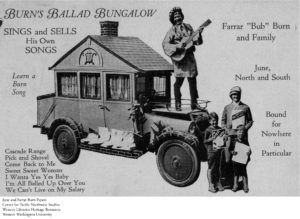 After the co-creators have been fairly compensated, net profits from the June and Farrar Project will support continued family ownership and maintenance of the land that June and Farrar purchased in 1931.
A wish is more or less a prayer. ~ Farrar
Photos used by permission.
June and Farrar Burn Papers
Center for Pacific Northwest Studies
Western Libraries Heritage Resources
Western Washington University
https://Library.wwu.edu/hr/cpnws