The June and Farrar project has three phases.
Phase 1: Publish a new legacy edition of June Burn's popular memoire Living High: An Unconventional Autobiography, which has remained in print for much of the time since it was first published in 1941. It will be available in print and digital, distributed by Ingram Sparks and released in 2023.
Phase 2: Re-record Farrar's songs with a contemporary vocalist (Rich Hinrichsen) and guitar accompanist (Tracy Spring) and produce an audio edition of Living High read by Skye Burn, June and Farrar's eldest grandchild, age 72. The first songs, Cascade Range, Thinkin' of My Darlin', and Pick and Shovel: A Song of Contentment will be released in 2023.
Phase 3: After Phase 1 and 2 are launched, we intend to work with co-creators—songwriters, screenwriters, consultants—to produce the script for a screenplay that tells June & Farrar's story and utilizes his songs in the storytelling. New songs will be composed to include June's voice in the musical themes.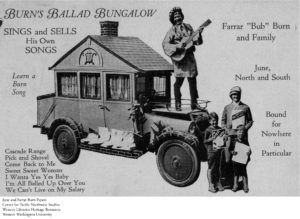 After the co-creators have been fairly compensated, net profits from the June and Farrar Project will support continued family ownership and maintenance of the land that June and Farrar purchased in 1931.
A wish is more or less a prayer. ~ Farrar
Photos used by permission.
June and Farrar Burn Papers
Center for Pacific Northwest Studies
Western Libraries Heritage Resources
Western Washington University
https://Library.wwu.edu/hr/cpnws